A uterine fibroid is a non-cancerous growth that can occur in the uterine lining, inside the uterus and/or outside of the uterus. They are most common in women ages 30 to 40, but can occur at any age.1 A woman can have one fibroid tumor or several and they can grow in size and number as you age. However they do seem to shrink after menopause. Fibroid tumors don't always cause symptoms. However for women who feel the symptoms they may experience heavy menstrual bleeding, pelvic pain, frequent urination and difficulty getting pregnant.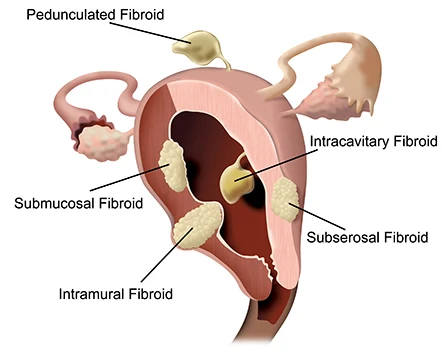 Fibroid Tumor Treatment Options
There are non-surgical treatment options that can be tried before surgery is the primary solution. However if medication and lifestyle changes aren't working a myomectomy can be performed. This procedure allows a woman to potentially avoid a hysterectomy. During a myomectomy, the surgeon will remove the fibroid tumor(s) and leaving your uterus in place. Myomectomy is recommended for women who want to become pregnant or keep their uterus for other reasons.
Uterine fibroids can be removed using a few different types of surgery:
Traditional open surgery. A large incision is made to allow the surgeon access to the uterus.
Laparascopy, also known as minimally invasive surgery. Uses a camera to guide the instruments inserted through a few small incisions.
da Vinci Surgery which is also minimally invasive. This uses a 3-D high definition camera to guide the surgeon's movement of special instruments that are able to move at a range that goes beyond what a human wrist can do. This makes the surgery more precise and scarring is minimal.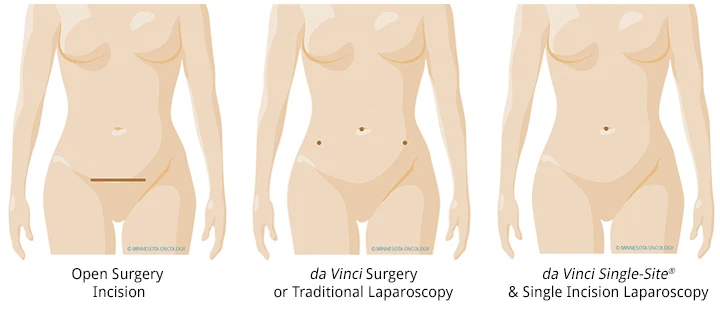 How da Vinci Surgery is Different for Uterine Fibroid Tumors
The gynecologic specialists at Minnesota Oncology are specially trained to perform da Vinci surgery for fibroid tumors.
da Vinci Myomectomy offers the following potential benefits when compared to open surgery:
Less blood loss2.3.4.5
Shorter hospital stay3,4,5,6
Less narcotic pain medicine required6
Small incisions for minimal scarring
da Vinci results compared to traditional laparoscopy:
Greater likelihood your surgeon can remove heavier fibroids3
Fewer complications during surgery7
As with any surgery there are potential complications or risks. For myomectomy those risks include: tear or hole in uterus, split or bursting of the uterus, preterm (early) birth, spontaneous abortion. Patients undergoing a myomectomy who have an undiagnosed cancer may be at risk of having cancer cells spread through the abdomen if a fibroid is cut into pieces for removal.
1 Uterine Fibroids; American College of Obstetricians and Gynecologists. Available from: acog.org/publications/patient_education/bp074.cfm. 2 Barakat EE, et al. Robotic-assisted, laparoscopic, and abdominal myomectomy: a comparison of surgical outcomes. Obstet Gynecol. 2011 Feb;117(2 Pt 1):256- 65. 3 Ascher-Walsh CJ, Capes TL. Robot-assisted laparoscopic myomectomy is an improvement over laparotomy in women with a limited number of myomas. J Minim Invasive Gynecol. 2010 May-Jun;17(3):306-10. Epub 2010 Mar 19. 4 Sangha R, et al. Surgical outcomes for robotic-assisted laparoscopic myomectomy compared to abdominal myomectomy. Journal of Robotic Surgery, Volume 4, Number 4, December 2010 , pp. 229-233(5). 5 Nash K, et al. Robotic-assisted laparoscopic myomectomy versus abdominal myomectomy: a comparative analysis of surgical outcomes and costs. Arch Gynecol Obstet. 2012 Feb;285(2):435-40. Epub 2011 Jul 22. 6 Bedient CE, et al. Comparison of robotic and laparoscopic myomectomy. Am J Obstet Gynecol. 2009 Dec;201(6):566.e1-5. Epub 2009 Aug 15. 7 Bedient CE, Magrina JF, Noble BN, Kho RM. Comparison of robotic and laparoscopic myomectomy. Am J Obstet Gynecol. 2009 Dec;201(6):566.e1-5. Epub 2009 Aug 15.