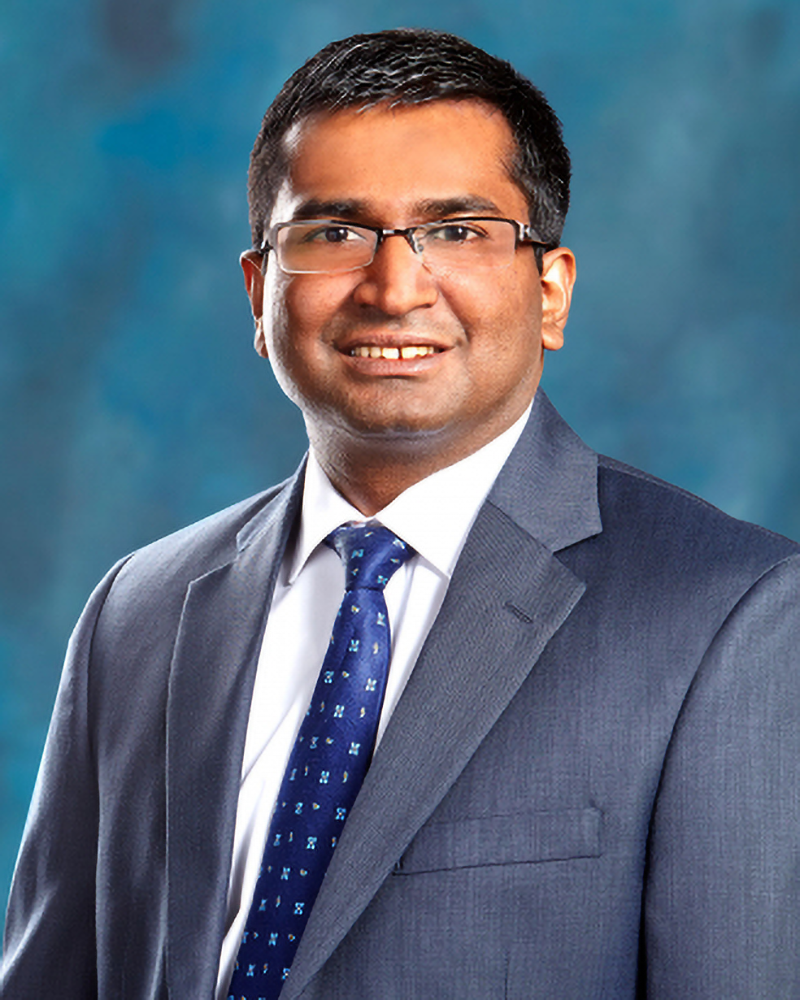 Samith Kochuparambil, MD
Medical Oncology & Hematology
Education:
Medical School
Madras Medical College, Chennai, India
Residency
Medical College of Georgia, Augusta, GA
Fellowship
Medical Oncology & Hematology, Mayo Clinic, Rochester, MN
Areas of Special Interest
Prostate Cancer
Kidney Cancer
Bladder Cancer
Testicular Cancer
Multiple Myeloma and Lymphoma
General Oncology
Lung Cancer
Colon and Rectal Cancer
Pancreatic and Biliary Cancer
Esophageal and Stomach Cancer
---
Philosophy of Care
A diagnosis of cancer can be overwhelming for patients and their families, often signaling the beginning of a physical, emotional and spiritual journey. My goal is to empower my patients with accurate information, positive thinking and to provide state-of-the-art care to help them through their journey with cancer. I strive to provide the most up-to-date treatments that incorporate breakthroughs in cancer therapies and access to latest clinical trials.
---
About
Academic Honors & Professional Achievements
Alliance for Clinical Trials in Oncology (National Committee Member)
​National Genitourinary Cancer Committee Member - US Oncology Network
​National Principle Investigator - US Oncology Network
STAR Resident Award (University of Georgia)
Rahn Peacock Award (Medical College of Georgia)
American Society of Hematology Abstract Achievement Award
Society of Hematological Oncology Travel Grant
Mayo Clinic Oncology Fellows Grant Program
Instructor in Medicine and Oncology, Mayo Clinic, Rochester, MN
Oral presentation and poster presentation at American Society of Hematology Annual Meeting, American Society of Clinical Oncology, Society of Hematological Oncology and American Association of Cancer Research.
Multiple publication in several cancer related journals, reviewer for multiple cancer journals and editorial board member.
Research/Publications
Kochuparambil ST, Litzow MR. (2014)
Novel Antibody Therapy in Acute Lymphoblastic Leukemia. Curr Hematol Malig Rep. 2014
Kochuparambil, S.T, Al-Husein B, Goc A, and Somanath, P.R.
Anti-cancer efficacy of simvastatin on prostate cancer . J Pharl Exp Ther. 2011
Mir MA, Kochuparambil ST, Abraham RS, Holland SM, Patnaik MM
Spectrum of myeloid neoplasms associated with GATA2 Cancer Med. 2015
Awan FT, Kochuparambil ST, Watkins K, Deremer D et al
Comparable efficacy and lower cost of PBSC mobilization with intermediate-dose cyclophosphamide and G-CSF compared with plerixafor and G-CSF in patients with multiple myeloma Bone Marrow Transplant. 2013
Awan FT, Kochuparambil ST, Deremer D, Jillella A, Hamadani M.
Plerixafor Salvage IsSafe and Effective in Patients Undergoing Chemotherapy and Filgrastim-Based Peripheral Blood Progenitor Cell Mobilization." J Oncol. 2012
Hamadani M, Kochuparambil ST, Osman S, Craig M, Awan F
Cyclophosphamide and granulocyte colony stimulating factor in stem cell mobilization Biol Blood Marrow Transplant 2012
Goc A, Al-Husein B, Kochuparambil, S.T, and Somanath, P.R.
PI3 Kinase Integrates Akt and MAP Kinase Signaling in the Regulation of Prostate Cancer Int J Oncol. 2011
Awan FT, Osman S, Kochuparambil ST, Jillella A, Hamadani M.
Impact of thalidomide-, lenalidomide- or bortezomib- containing induction therapy on the outcomes of multiple myeloma. Bone Marrow Transplant. Jan 2012
Sarcoidosis presenting with pancytopenia
Paul S, Gupta V, Gonsalves WI, Kochuparambil ST, Gangat N. Am J Med. 2014
Board Certification
Board Certified in Medical Oncology
Board Certified in Hematology
Board Certified in Internal Medicine
Affiliations
American Society of Clinical Oncology (ASCO)
American Society of Hematology (ASH)
Society of Hematological Oncology (SOHO)
American Medical Association (AMA)
American College of Physicians (ACP)
International Red Cross
---
Personal
I am married and live in St Louis Park. In my spare time I enjoy reading, watching movies, cooking and traveling.
---