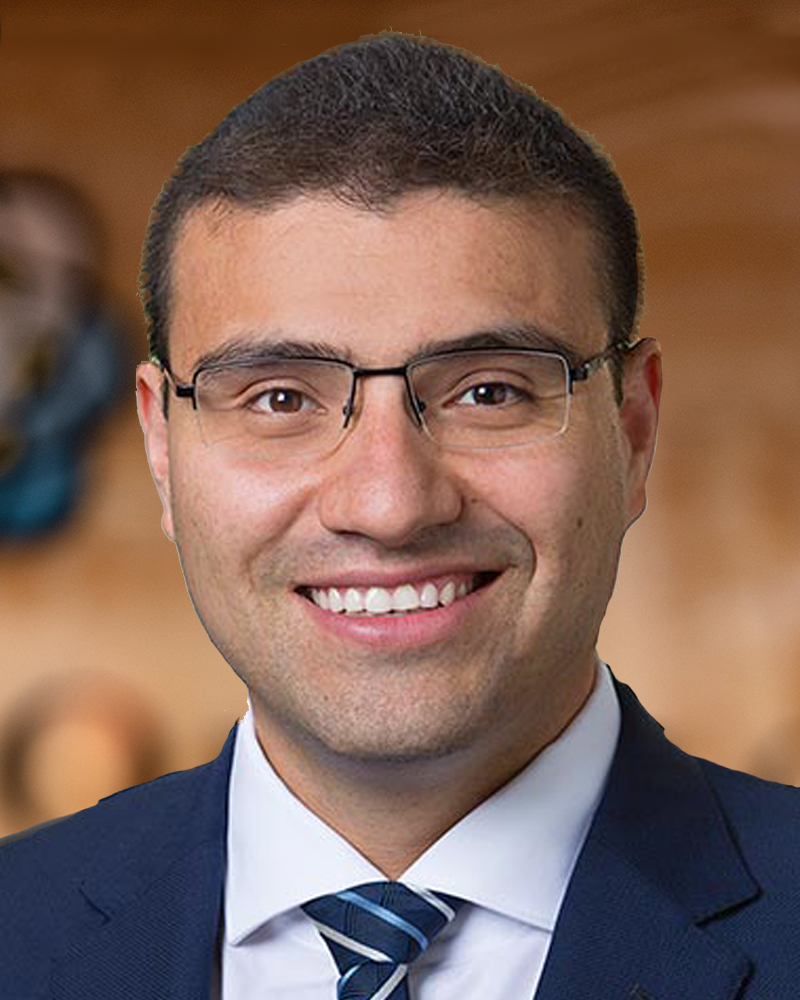 Jesus Vera Aguilera, MD
Medical Oncology & Hematology
Education:
Medical Degree
National Autonomous University of Mexico
Residency
Internal Medicine, Texas Tech University Health Sciences Center, Odessa, TX
Fellowship
Hematology & Medical Oncology, Mayo School of Health Sciences, Rochester, MN
Languages
Areas of Special Interest
Melanoma
Lung Cancer
Gastrointestinal Malignancies
Immunotherapy
Clinical trials/Novel therapies
---
Philosophy of Care
"Cancer treatment is challenging for patients and families; my purpose is to be a friendly hand to go along the journey of cancer diagnosis and treatment. My commitment is to provide our patients with competent, empathetic, and compassionate care. I strive to find new therapies, clinical trials, and multidisciplinary approaches to help our patients during adversity."
---
About
Academic Honors & Professional Achievements
Fraternal Order of Eagles Cancer Research, 06/2018 Mayo Clinic Rochester, Minnesota
Merit Award. Conquer Cancer Foundation, 01/2018 ASCO-SITC Clinical Immuno-Oncology Symposium San Francisco, CA
Outstanding Research resident. 06/2016 Odessa, Texas
Young Achiever Award. 05/2015 American College of Physicians. Boston, Massachusetts
Research/Publications
1. Verma N , Haji-Abolhassani I , Ganesh G , Vera-Aguilera J , Paludo J, Heitz R, Markovic SN, Kulig K , Ghoreyshi A. A Novel Wearable Device for Continuous Temperature Monitoring & Fever Detection. IEEE J Transl Eng Health Med.2021 Jul 19;9:2700407.
2. Vera Aguilera J, Paludo J, McWilliams RR, Zhang H, Li Y, Kumar AB, Failing J, Kottschade LA, Block MS, Markovic SN, Dong H, Dronca RS, Yan Y. Chemo-immunotherapy combination after PD-1 inhibitor failure improves clinical outcomes in metastatic melanoma patients. Melanoma Res. 2020 Aug;30(4):364-375
3. Galli F, Vera Aguilera J, Palermo B, Markovic SN, Nisticò P, Signore A. Relevance of immune cell and tumor microenvironment imaging in the new era of immunotherapy. J Exp Clin Cancer Res. 2020 May 18;39(1):89
4. Duma N, Abdel-Ghani A, Yadav S1, Hoversten KP, Reed CT, Sitek AN, Enninga EAL, Paludo J, Aguilera JV, Leventakos K, Lou Y, Kottschade LA, Dong H, Mansfield AS, Manochakian R, Adjei AA, Dronca RS. Sex Differences in Tolerability to Anti-Programmed Cell Death Protein 1 Therapy in Patients with Metastatic Melanoma and Non-Small Cell Lung Cancer: Are We All Equal?. JAMA Oncol. 2019 Apr 25. doi: 10.1001/jamaoncol.2019.0393.
5. Wang Y, Zhou S, Yang F, Qi X, Wang X, Guan X, Shen C, Duma N, Vera Aguilera J, Chintakuntlawar A, Price KA, Molina JR, Pagliaro LC, Halfdanarson TR, Grothey A, Markovic SN, Nowakowski GS, Ansell SM, Wang ML. Treatment-Related Adverse Events of PD-1 and PD-L1 Inhibitors in Clinical Trials: A Systematic Review and Meta-analysis. Oncologist. 2019 Apr 29. pii: theoncologist.2019-0094. doi: 10.1634/theoncologist.2019-0094.
6. Vera-Aguilera J, Paludo Jonas, Kottschade L, et al. Case series of dabrafenib-trametinib induced pyrexia successfully treated with colchicine. Support Care Cancer. 2019. Epub 2019 Jan 5.
7. Bangalore Kumar A, Vera Aguilera J, Velazquez A, et al. The role of serum lactate dehydrogenase (LDH) level as a prognostic indicator in resected, high risk melanoma. Dermatol Ther. 2019 Jan 8. doi: 10.1111/dth. 12813. PMID: 30620137
8. Vera-Aguilera J, Duma N, Gast K, et al. Hemolytic Uremic Syndrome Associated With Escherichia coli O157 Infection in an Allogenic Stem Cell Transplant Recipient. Mayo Clin Proc Innov Qual Outcomes. 2018 Sep 15;2(4):387-391. doi: 10.1016/j.mayocpiqo.2018.07.001. Dec.PMID: 30560242\
9. Duma N, Kothadia SM, Azam, Vera Aguilera J, et al.Characterization of Comorbidities Limiting the Recruitment of Patients in Early Phase Clinical Trials. Oncologist. 2019 Jan;24(1):96-102. doi: 10.1634/theoncologist.2017-0687. Epub 2018 Nov 9. PMID:30413668
10. Vera-Aguilera , J. Rao, R. Allred J, et al. "Phase II Study of Everolimus in Metastatic Malignant Melanoma NCCTG N0377 (Alliance)." Oncologist. 2018 Apr 17. PMID: 29666297
11. Vera-Aguilera, J. Bedikian, A. Bassett R, et al. Phase I/II study of hepatic arterial infusion of nab - paclitaxel in patients with metastatic melanoma to the liver. Am J Clin Oncol. 2018 Mar 5. doi: 10.1097/COC.0000000000000436. PMID: 29509591
12. Duma N, Vera-Aguilera J, Paludo J, et al.Representation of Minorities and Women in Oncology Clinical Trials: Review of the Past 14 Years. J Oncol Pract. 2017 Nov 3:JOP2017025288. doi: 10.1200/ JOP.2017.025288. PMID: 29099678
13. Vera-Aguilera J, Enninga E, Markovic, S. Case Report: Colchicine in the Treatment of Dabrafenib and Trametinib-Associated Pyrexia. AJHO.Vol 13. No.8.19-23. 2017
14. Vera-Aguilera, J. Perez-Torres, A. Vera-Aguilera, C. Moreno-Aguilera. Novel treatment of melanoma: combined parasite derived peptide GK1 and anti-Programmed Death Ligand 1 (anti-PD- L1) therapy. Cancer Biother Radiopharm. 2017 Mar;32(2):49-56. doi: 10.1089/cbr.2016.2123.PMID: 28301259
15. Vera-Aguilera, J. Hindi, Y. Beltran-Melgarejo, D. Mok, M. Moreno-Aguilera E.& VeraAguilera C. Clinical scenarios for discordant anti-Xa. A review. Adv Hematol. 2016;2016:4054806. doi: 10.1155/2016/4054806. Epub 2016 May 12. PMID: 27293440
16. Moreno-Aguilera E, Galeana-Nogueda FI, Vera-Aguilera J, Vera-Aguilera C, Ley-Marcial LA. Jejunal perforation secondary to pulmonary mucoepidermoid carcinoma metastasis. Case report and review.Cir Cir. 2017 May - Jun;85(3):254-259. doi: 10.1016/j.circir.2016.03.006. Epub 2016 May 31. PMID: 27260218
17. Vera-Aguilera J, Mukarram O, Nutalapati P, Mok M, Bulumulle A, Vera-Aguilera C. Bilateral orbital myeloid sarcoma preceding acute myeloid leukemia in an adult: a case report and review of the literature. J Med Case Rep. 2016 Feb 4;10:31. doi: 10.1186/s13256-015-0778- 2. Review.PMID: 26846095
18. Perez-Torres, A. Vera-Aguilera, J. Pulido-Camarillo, E. Vera-Aguilera, C. Moreno-Aguilera, E. Sahaza, J. Nuñez-Ochoa, L. & Jeganathan, P. Hematological Effects, Serum, and Pulmonary Cytokine Profiles in a Melanoma Mouse Model Treated with GK1. Cancer Biother Radiopharm. 2015 Aug;30(6):247-54. doi: 10.1089/cbr.2015.1835. PMID: 26181852.
19. Pérez-Torres, A. Vera-Aguilera, J. Hernaiz-Leonardo, JC. Moreno-Aguilera, E. MonteverdeSuarez, D. Vera-Aguilera, C. & Estrada-Bárcenas, D. The synthetic parasite-derived peptide GK1 increases survival in a preclinical mouse melanoma model. Cancer Biotherapy and Radiopharmaceuticals. 2013, Nov; 28(1084-9785): 682-690. Cited in PubMed; PMID: 23841709
Board Certification
Hematology Board
Medical Oncology Board
American Board of Internal Medicine
Affiliations
NCI Community Oncology Research Program (NCORP) Member
Mayo Fellows' Association – Rochester
American Society of Clinical Oncology
American Society of Hematology
---
Personal
I love to spend time with my family and long walks with my dog. I enjoy traveling and experiencing new cultures and food.
---