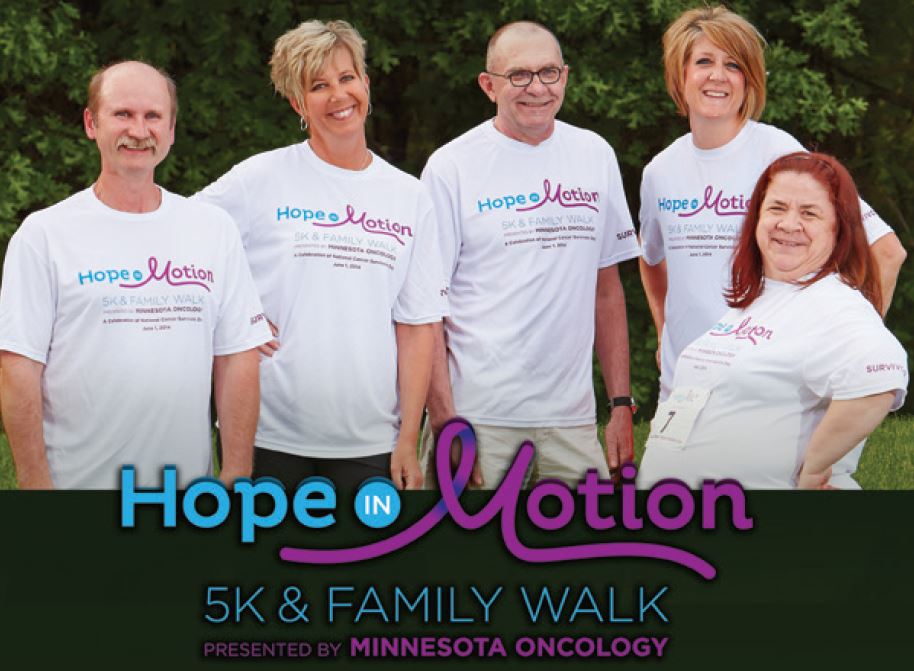 Cancer survivors now number more than 14.5 million in the United States and are expected to grow to 19 million over the next decade, according to the American Cancer Society. More cancers are cured, more people are living longer with the disease and people are living longer in general, which boosts the number of cases and survivors because the risk of developing cancer rises with age.
More than ever, it has become important to support patients beyond their clinical treatment. Minnesota Oncology has grown its Survivorship Program in recent years, making complementary care a priority. Recognizing that there wasn't a National Cancer Survivors Day event in the Twin Cities, Minnesota Oncology decided to host the first-ever Hope in Motion event to celebrate survivors on June 1, 2014, at Normandale Lake Park in Bloomington, Minn.
More than 600 cancer survivors, supporters, caregivers, family members, and health care professionals registered to walk or run in the Hope in Motion 5K and 1-Mile Family Walk, and Kids Dash events. Hope in Motion aimed to raise awareness for National Cancer Survivors Day and the need to support survivors, their families and caregivers with programs and resources to help them cope with treatment and life after treatment. To that end, Hope in Motion was a fundraiser for two local nonprofits that provide programs and support for cancer survivors – Angel Foundation and Well Within. More than $20,000 has been raised for the two organizations through the support of our generous sponsors and the fundraising efforts of participants.
Although severe weather on June 1 led to the cancellation of Hope in Motion on National Cancer Survivors Day, the event has been rescheduled for Sunday, July 13.
The following survivors who registered and trained for Hope in Motion agreed to share their inspirational stories with us: