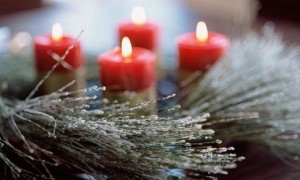 The holiday season is meant to be a time of celebration with friends and families, but it can also bring about a great deal of stress. This can be especially true for those who are managing a cancer diagnosis. Emotions always run high at this time of the year, but we often find that different emotions surface around the holidays. Some try to do too much over the holidays and wear themselves out, while others wish to skip the holidays altogether.
The "perfect" holiday may only exist in those holiday cards with a perfectly decorated house full of family and friends, a roaring fire, and the snow falling peacefully outside It's natural to long for those times when things seemed to be a bit easier, but now your holidays may exist in a new reality.
It doesn't mean all is lost. Holiday joy doesn't have to depend on doing everything the same way it has always been. Changes often bring new holiday traditions that you may cherish for years to come. Here are a few tips to help make this holiday one to remember:
Keep things simple
Consider scaling back your holiday activities. If you did most of the decorating, shopping, cooking, baking, and entertaining in the past, shift your focus this year to one or two traditions that are special to you. Share your thoughts with your family and friends so they can provide support and assistance.
Identify the things that have stressed you out in the past and find new ways of accomplishing the task. If it is too hard or stressful to go out shopping, try shopping online or ask others to pick up gifts for you.
If finances are tight this holiday season, keep in mind that heartfelt, homemade gifts and "thinking of you" notes go a long way to let others know that you have been thinking of them.
Say Yes!
This may be surprising to some, but saying yes will be a good thing in moderation. Since your cancer diagnosis you may have started to say no – no to dinner with friends…no to your monthly card club…no to your favorite holidays. But think about saying YES! Yes to the neighbor that asked if they can help… yes to a special night out. The time spent with those special people in your life is likely to lift your spirits.
Budget Your Energy
When you have very little energy, you must choose to use it carefully. Just as you budget your money, you will need to find ways to budget your energy as well. Make sure you find time to rest each day during the holidays and limit the number of holiday parties you attend or the amount of visitors you host during the holiday (in other words, don't say "yes" to every invitation!). If you are concerned about limiting visitors during the holiday, you can explain to them that cards are welcome but you are concerned about your fatigue levels or the infection risk. Family and friends will understand your need for rest during this busy time.
Express your feelings
Don't be afraid to show emotions. Tears can bring a sense of relief, and laughter can be relaxing. Allow yourself to share these feelings with your support people. It's common to experience a mixture of anticipation, excitement and apprehension about the future. Savor the good times, but feel free to take the time to grieve if you need to.
Remember the true meaning of the holidays
Finally, rather than concentrating on what may be missing or different about this year and what tradition wasn't kept from seasons past, try to focus on the present moment. Enjoy your celebration in whatever form it takes. Remember what the holiday season is really about – a time for renewing friendships, enjoying our families, celebrating, sharing with other, and being thankful.