Why Minnesota Oncology?
Independence. Experience. Value. Quality. Success.
For more than 25 years, Minnesota Oncology has defined a new standard of cancer treatment in the Twin Cities. Our independent, community-based model of cancer care means that patient-centered, evidence-based treatment is closer than ever. As the Twin Cities' largest and most experienced cancer treatment provider, we know that treating cancer calls for more than compassion. It means giving our patients access to more than 100 cancer care experts, evidence-based treatment paths, 14 close-to-home locations and comprehensive services to support the whole person.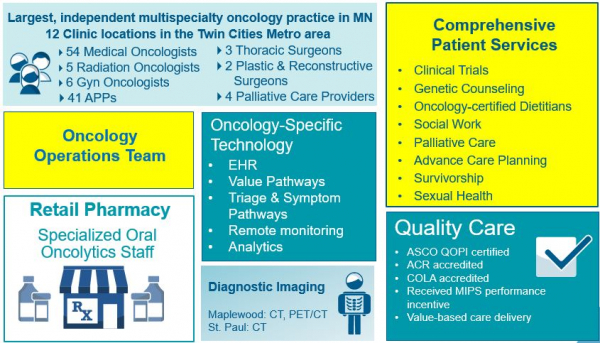 We are an independent, physician-owned practice. This means that we have the freedom to make the care decisions that benefit our patients and their families – not health systems.
We offer unmatched experience, expertise and access.

Minnesota Oncology providers have a combined 150+ years of experience
There are more than 200 clinical trials available to our patients.
Patients referred to Minnesota Oncology will be offered an appointment within 48 hours.
Patients have 24/7 access to Minnesota Oncology providers through our "Call us early. Call us First." Program.
We provide our physician cell phone numbers to referring providers so that you can easily reach us by phone with any questions or urgent cases.


We uphold a lower cost of care. We decrease the total cost of cancer care by:

Reducing Emergency Department visits and admissions through our "Call us early. Call us First." program which encourages and enables patients to access a Minnesota Oncology provider 24/7.
Utilizing fiscally responsible drug strategies.
Responsibly managing of end-of-life and hospice enrollment.
Utilizing Navigating Care, a remote symptom, side-effect and medication management system.
Continually assessing our systems, expenditures, and processes to achieve the utmost fiscal responsibility.
As a member of The US Oncology Network, our physicians maintain their independence, but get the support of a management company that has deep expertise in oncology practice management and value-based care delivery.


We provide increased patient care quality by:

Communicating and coordinating care with all providers.
Measuring patient satisfaction and creating ongoing strategies to improve the patient experience.
Providing pain assessment and management.
Offering additional patient support services (financial, clinical, nutrition, weight loss, smoking cessation).


We utilize treatment pathways for the most successful outcomes.

Value Pathways powered by NCCN™ are treatment pathways that highlight evidence-based treatment options based on efficacy, toxicity and an evaluation of financial impact to patient and payor (Medicare reimbursement). The pathways are a refinement of the NCCN Guidelines and the result of combined efforts through a collaboration between three organizations: NCCN, McKesson and The US Oncology Network. Value Pathways powered by NCCN is a shorter, distilled list of treatment choices that support the delivery of high-quality, cost-effective patient care.
Minnesota Oncology's adherence to Value Pathways is among the highest in The Network.


We are a member of the Mayo Clinic Care Network.
This clinical collaboration with Mayo Clinic Minnesota Oncology, announced in December 2020, means that our providers now have access to clinical tools, such as eConsults and eBoards, that allow us to consult with Mayo Clinic to enhance the care we provide for patients locally. Please see the FAQs for referring providers for more on these and other tools that will complement our care of patients.