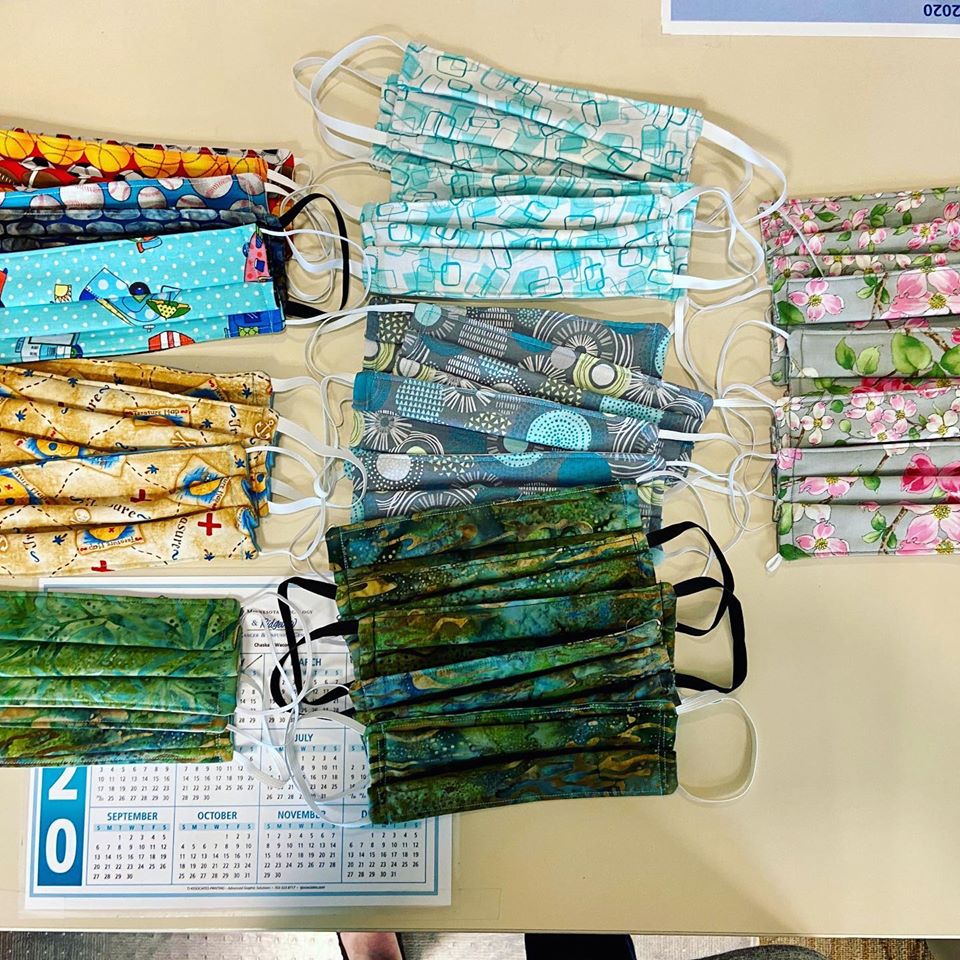 The Centers for Disease Control (CDC) recently updated their coronavirus (COVID-19 virus) guidelines to recommend wearing face coverings whenever going out in public. For the safety of all of our patients and staff, Minnesota Oncology requires all patients and caregivers to wear face coverings when coming to our clinics.
Face coverings are material worn over the mouth and nose, such as a cloth mask or bandana. They are usually made at home using common materials such as fabric scraps or a t-shirt. Minnesota Oncology clinics have been collecting homemade masks from generous donors, so if you do not have a mask available, please request one when you enter the clinic.
Face coverings help prevent the spread of the COVID-19 virus by keeping droplets from spreading in the air when the wearer breaths out, talks, or coughs. They are especially useful to help prevent people who have the COVID-19 virus but do not have any symptoms from unknowingly spreading it to others.
It is important to note that face coverings are not the same as medical facemasks and are not intended to protect the wearer from exposure to the COVID-19 virus. Due to severe supply shortages, medical facemasks should be reserved for healthcare professionals and others who need this type of protection. Speak with your care team if you would like more information about medical facemasks.

Are you making masks or do you have medical facemasks to donate? Please consider donating to Minnesota Oncology to help us keep our patients and staff safe. See donation information here.
Face coverings do not take the place of other infection control practices like good hand washing, social distancing, and staying home when you are ill.
Tips for Face Coverings
If you're planning on making your own face covering, there are several options and patterns you can use. For those unsure of where to begin, the CDC provides sew and no-sew instructions for making homemade face coverings.
No matter which type of face covering you choose, please keep the following in mind:
Make sure it fits snug to your face, covering your nose and mouth
Make sure it includes several layers of material (may be achieved by folding or layering)
Do not let it restrict your breathing
Wash it in the washing machine regularly between uses
Avoid touching your face or the front of the face covering while wearing
Always wash your hands immediately after touching or removing your face covering
Adapting in a Changing World
As we continue to learn more about the COVID-19 virus and how it spreads, we've had to adapt our behaviors. Wearing face coverings is just one part of good infection prevention. Here are some other important recommendations to prevent the spread of the COVID-19 virus:
Wash your hands – Washing your hands is still one of the best ways to protect yourself and others. Be sure to thoroughly clean your hands whenever returning from a public area, before eating, after using the restroom, touching your face or your face covering.
Practice social distancing – This helps stop the spread of the virus from contact or airborne droplets. Avoid going into public places when you can and observe all stay at home orders for your area. When you are out in public, keep at least a six-foot distance between you and others.
Self-quarantine if feeling ill – If you have a cough or fever or other symptoms you think might be caused by the COVID-19 virus, self-isolate. Do not leave the house unless it is a medical necessity. If you must seek medical care, notify your provider before going so they can protect others from potential exposure. You should also isolate within your home to protect the people who live with you.
Although the social isolation and new precautions like face coverings can be overwhelming at times, please remember we are all in this together. By taking responsibility for our actions and watching out for one another, we'll recover faster from this pandemic.
Stay healthy and safe. We are here for you. Always.