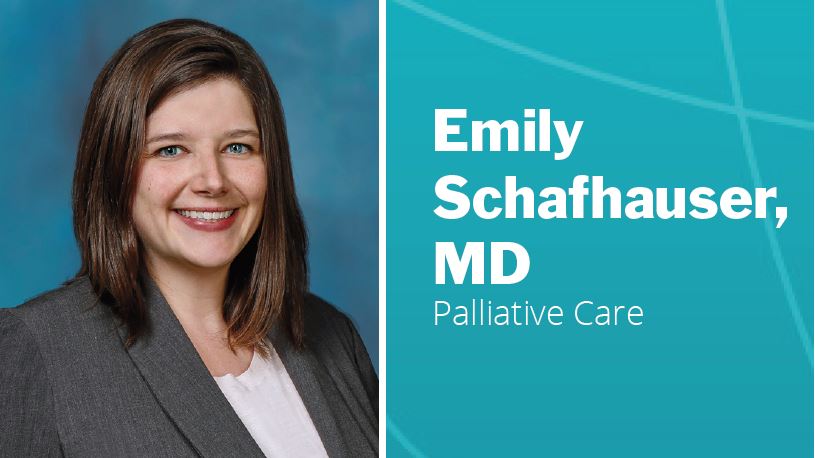 Minnesota Oncology is pleased to introduce our first-ever Palliative Care physician, Emily Schafhauser, MD. Dr. Schafhauser will lead and grow Minnesota Oncology's Palliative Care program. Palliative Care provides an extra layer of support for patients and their loved ones. It is person-and family-centered care that optimizes quality of life by anticipating, preventing, and treating suffering. Dr. Schafhauser will see patients for palliative care appointments at our St. Paul Cancer Center and Fridley Clinic locations.
"Being diagnosed with cancer can bring new worries, physical concerns, or questions about the future," Dr. Schafhauser says. "I strive to improve my patients' quality of life by collaborating with the entire care team to relieve symptoms, provide support, and assist with making plans for future care."
Dr. Schafhauser earned her Medical Degree from Creighton University School of Medicine in Omaha, Neb. She completed a residency in Internal Medicine and Pediatrics and a Fellowship in Hospice and Palliative Medicine, both at the University of Minnesota in Minneapolis.
Dr. Schafhauser is board certified in Hospice and Palliative Care, Internal Medicine, and Pediatrics. She has a special interest in caring for young adults with cancer.
A Minnesota native who grew up in Woodbury, Dr. Schafhuaser enjoys exploring local parks and walking trails with her husband and two daughters.
"I am honored to be a part of this team," Dr. Schafhauser says.
Learn more about Dr. Schafhauser and request an appointment here.