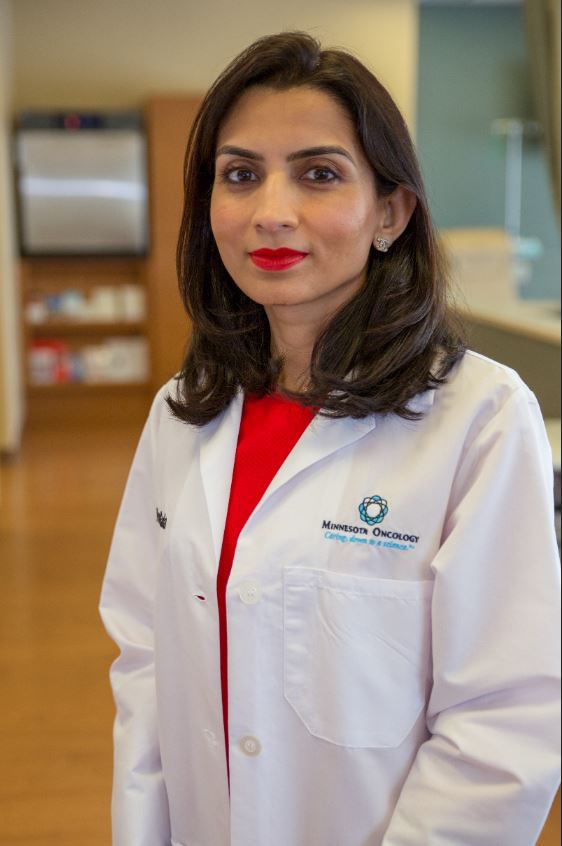 by Dr. Purvi Gada, oncologist and hematologist, Minnesota Oncology & Ridgeview Cancer & Infusion Center, 952-361-5800
If you or a loved one has recently been diagnosed with cancer, you're probably filled with questions and concerns about available treatment options, cost of treatment and fears about the future. The cancer care team at Minnesota Oncology & Ridgeview Cancer & Infusion Center is here to offer guidance and answer questions so that you can choose the best way forward.
Your First Appointment
Expect to receive a lot of information during your first appointment. Occasionally, the patient or their family member has researched the type of cancer and treatment options using online tools such as our own. However, every patient's situation is different. While there are some typical cancer treatment protocols, they don't apply to everyone.
Document. Document. Document.
Between visits you can jot down questions and concerns that come up so you'll remember to discuss them with your cancer care team. If you're worried that you'll miss important information while you're taking notes or a written notebook just isn't ideal for you, you might want to record conversations with your physician.
Questions to Ask Your Oncologist
When you are diagnosed with cancer, there are certain questions you should ask your doctor so you'll better understand your illness and what to expect during treatment. We recommend that you write other questions in your cancer notebook, so you'll make sure to ask your oncologist.
Your cancer care team may not know all of the answers to these questions at your first appointment, but once you have a treatment plan in place, you should be able to get through this entire list.
What is my exact diagnosis and stage?
Will I need more tests?
Do I need to change my diet?
What are the treatment options for my cancer?
What is the goal of treatment--to cure or control my symptoms?
Does my cancer treatment plan include surgery and/or radiation?
What are the possible risks of treatment?
Will cancer treatment affect my daily life?
What are the side effects of my treatment options?
How long will treatment last?
What problems or symptoms should I report right away?
What does my future (prognosis) look like, as you see it?
Do my siblings or children have an increased risk of developing this type of cancer?
Should I exercise during chemotherapy or radiation treatments?
Will I need to see other medical or cancer specialists as part of my treatment?
Cancer Clinical Trials
Clinical trials help uncover various new cancer treatment options for a variety of cancers, and give many patients the opportunity to receive newly developed cancer treatment therapies or investigational drugs not yet available outside the study. Talk to your oncologist to determine if you'd be a good candidate for a clinical trial.
Insurance Coverage
Financial concerns are common among cancer patients. If you have insurance, your policy will probably cover at least some of your cancer treatment. Every policy is different and every patient's recommended course of treatment will be unique.
After your cancer diagnosis, contact your insurer and ask for a copy of your medical insurance benefits. You won't immediately know what your suggested treatment plan will be, but once your oncologist finalizes your individualized treatment plan, you can work with our patient benefit representative who can help you determine what your insurance will and will not cover.
If you do not have insurance, you may qualify for financial assistance through non-profits or foundations. Our patient benefit representatives can help you explore these options and apply for financial assistance if needed.
Cancer Support Groups
Many hospitals, cancer centers, community groups, and schools offer cancer support groups. Our survivorship program will assist you in understanding your diagnosis, treatment plan and connecting you with needed resources during and after your cancer journey
Dr. Gada is a board certified oncologist and hematologist at Minnesota Oncology & Ridgeview Cancer & Infusion Center in Chaska and Waconia. She has been named a Top Doctor by Mpls/St. Paul Magazine since 2016.