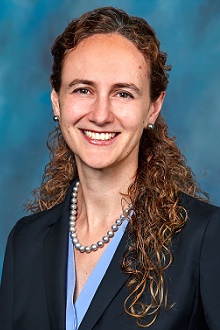 Minnesota Oncology is pleased to announce the association of Stephanie Krejcarek Childs, M.D. with the practice of Radiation Oncology at the Maplewood Cancer Center.
Dr. Childs holds a Bachelor of Science degree from Brown University and received her medical degree from Harvard Medical School, Boston, MA. After an internship at Brigham and Women's Hospital in Boston, Dr. Childs completed a residency in the Harvard Radiation Oncology Residency Program.
Among her honors, Dr. Childs was the recipient of a Fulbright Fellowship from the Fulbright Foundation of Sweden.
She holds Diplomat Board Certification from the American Board of Radiology.
Dr. Childs most recently served as Assistant Professor of Radiation Oncology at the Mayo College School of Medicine and as Senior Associate Consultant in the Mayo Clinic Department of Radiation Oncology.
She has co-authored a number of peer reviewed articles and abstracts in publications such as the International Journal of Radiation Oncology; the Journal of Clinical Oncology; and Neuro Oncology.
Appointments can be scheduled with Dr. Childs at the Maplewood Cancer Center by calling (651) 779-7978.