by Alexia Hansen, Lab Manager
Did you know that Minnesota Oncology labs performed 3,673,126 total tests in the past year? That includes:
77,755 Venipuncture (blood draws)
94,017 Complete Blood Counts (CBC)
19,855 Comprehensive Metabolic Panels (CMP)
10,719 INRs (blood clotting test)
10,337 Cancer antigen (CA) 27-29 tests
7,539 carcinoembryonic antigen (CEA) Tests
In addition to all of these tests, Minnesota Oncology's Laboratory Services department has improved processes, embraced practice goals, cross-trained into other areas, participated and volunteered in practice activities, passed inspections, and sought ways to reduce waste.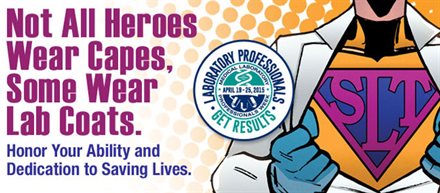 Minnesota Oncology will celebrate the important work of our laboratory employees this week during Lab Week 2015. "Lab Week", or Medical Laboratory Professionals Week (MLPW) provides the profession with a unique opportunity to increase public understanding of and appreciation for clinical laboratory personnel. Now in its 40th year, MLPW, which takes place the last full week in April each year, is coordinated by a collaborative committee with representatives from 14 national clinical laboratory organizations, including The American Society for Clinical Laboratory Science.
This year, Minnesota Oncology labs will be celebrating Lab Week with a competition. The national theme for 2015 is "Not All Heroes Wear Capes, Some Wear Lab Coats," and Minnesota Oncology labs have been challenged to design a unique lab coat. These coats will be judged and a trophy awarded to the winning lab to put on display.
During the week of April 20-24, stop by your clinic's lab and tell them thanks, check out their lab coat, and wish them luck!