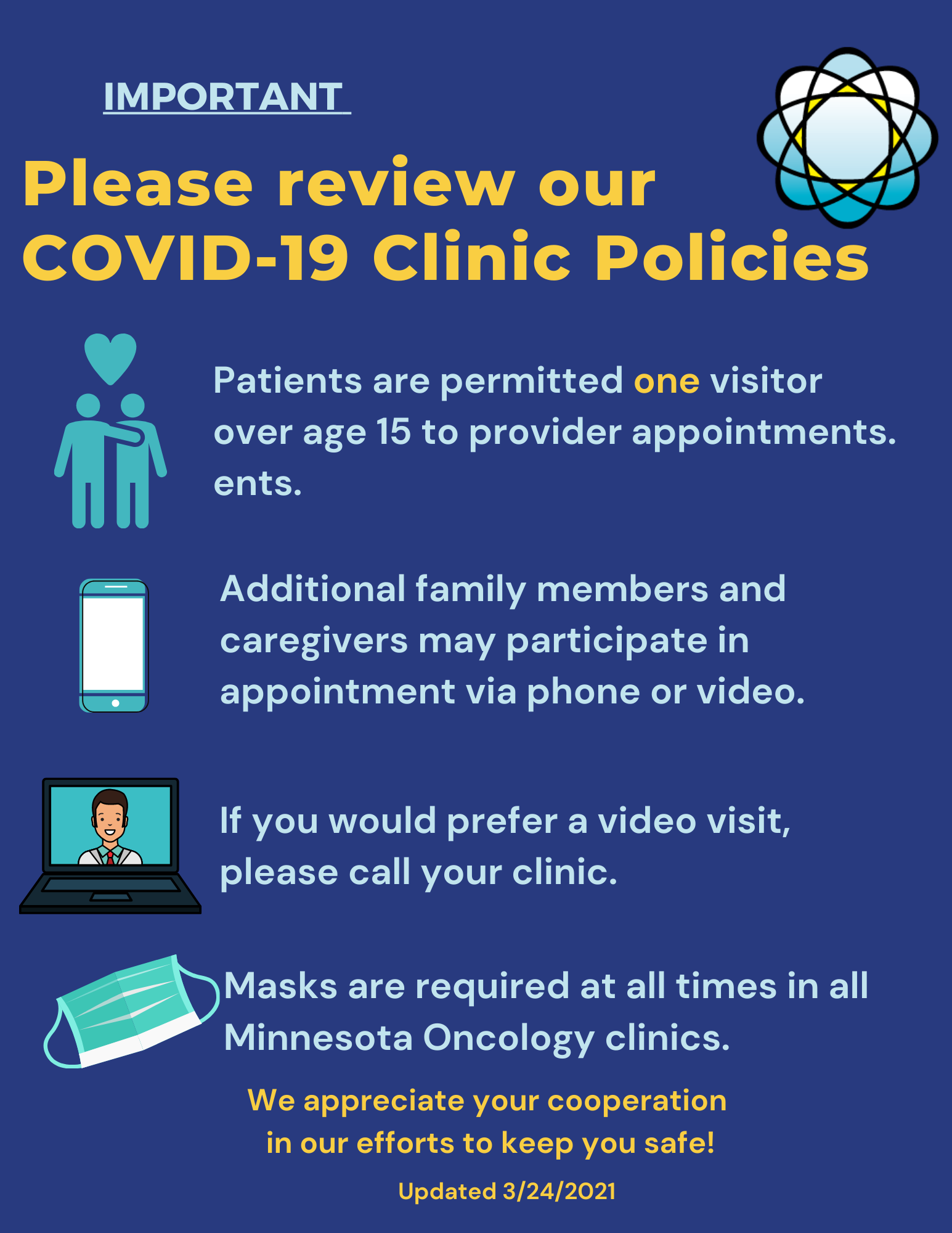 At Minnesota Oncology, the health and safety of our patients, families, and staff are our top priority. We continue to evaluate our visitor policy to allow more people to safely visit their loved one while receiving care. Due to the high number of clinic staff and patients now vaccinated for COVID-19, we will now allow one (1) visitor along with the patient into the exam rooms for provider visits at this time. This visitor ideally would be the same person at all of their visits. Regardless of vaccination status, visitors will be required to follow the same guidelines regarding exposure risk and COVID-19 screening protocol upon check-in for appointments.
Please note: Per recommendations of the Minnesota Department of Health and Centers for Disease Control, wearing a facemask is still mandatory even if you are vaccinated.
Vaccination information for patients:
The Centers for Disease Control and Minnesota Department of Health recommends that you get vaccinated as soon as you are able.
The eligibility criteria for vaccination is updating regularly. Please see the MN Department of Health website for information on who's getting vaccinated now.
The best way to ensure you are on the list and will be alerted once you are eligible is to use the VACCINE CONNECTOR through the MN Department of Health. MN Department of Health will send you a link to schedule your vaccination appointment once you are eligible based on the latest criteria. Though Minnesota Oncology will NOT be offering vaccines, there are many other vaccine resources in the community including through different health systems. Each vaccine site may have different criteria; therefore, it is important for you to talk with your primary care provider, register or call ahead to ensure you are eligible through that site (Minnesota Oncology cannot do this for you).