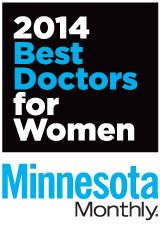 Each year the Minnesota Monthly Magazine conducts a survey of 10,000 physicians and medical professionals in the Twin Cities, asking them to nominate the Best Doctors for Women in 40 Specialties. Physicians are chosen by their physician peers and are recognized for both their professional expertise and their attention to the specific needs of female patients.
This year, 15 Minnesota Oncology physicians are named among the 2014 Best Doctors for Women. Congratulations to these 15 physicians on this recognition from their peers!
Read the full article here.
Thomas T. Amatruda, MD – Medical Oncology & Hematology
Ellen Bellairs, MD – Radiation Oncology
Barbara Bowers, MD – Medical Oncology
Thomas Flynn, MD – Medical Oncology & Hematology
Matthew Graczyk, MD – Thoracic Oncology/Surgery
Nisha Jacobs, MD – Medical Oncology & Hematology
Louis Jacques, MD, FRCSC – Thoracic Surgery
Tim Larson, MD – Medical Oncology & Hematology
Joseph Leach, MD – Medical Oncology & Hematology
Steven R. Rousey, MD – Medical Oncology & Hematology
Mark D. Sborov, MD – Medical Oncology
John E. Seng, MD – Medical Oncology & Hematology
Annie Tan, MD, PhD – Gynecologic Oncology/Surgery
Paul Thurmes, MD – Medical Oncology & Hematology
Michaela Tsai, MD – Medical Oncology & Hematology