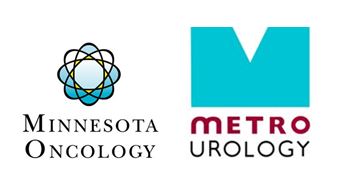 Media Contact: Colleen Schwab, Director of Marketing
Minnesota Oncology
651-602-5349 – Office
651-262-4243 – Cell
colleen.schwab@usoncology.com
St. Paul and Woodbury, MN (June 19, 2015) – Metro Urology and Minnesota Oncology this month launched a new partnership to provide a Multidisciplinary Cancer Clinic for their patients. Metro Urology physicians specializing in urologic cancer will collaborate with Minnesota Oncology Maplewood Cancer Center physicians Vladimir Hugec, MD and Robert Delaune, MD.
The Multidisciplinary Cancer Clinic provides coordinated care for patients who have been diagnosed with urologic cancers such as bladder cancer, prostate cancer, or kidney cancer. By allowing the patient to see two providers in one location, the Clinic offers convenience and saves time for cancer patients. In addition, this collaborative approach to care improves patient care and quality.
"By offering these services in one location, we can make life easier for our patients," said Randy Thompson, executive director at Minnesota Oncology. "We are excited to partner with Metro Urology to make it more convenient for our patients to receive the care they need."
In urology and oncology, some of the patients we treat have extremely complex problems which require input from different types of specialists," said Aaron Milbank, MD, president of Metro Urology. "The idea behind the combined Multidisciplinary Cancer Clinic is that we can provide these services and opinions for our patients at one time and under one roof."
The Clinic will be held at Metro Urology's office in Woodbury, Minn., on the first Monday of each month from 1-5 p.m. Metro Urology and Minnesota Oncology providers and staff will coordinate the patients' appointments.
###
About Minnesota Oncology
Minnesota Oncology is a group of more than 70 oncology and hematology specialists dedicated solely to the diagnosis and treatment of various cancers – lung, breast, gynecological, colorectal, prostate and others – as well as many blood disorders. It has 11 locations across the Twin Cities metropolitan area and is the largest independent oncology practice in the region. For more information please visit mnoncology.com.
About Metro Urology
With 25 dedicated providers serving patients at 10 Twin Cities locations, Metro Urology is the largest independent urologic specialty practice in the state of Minnesota. As a national leader in adult urology, we are committed to offering the most knowledgeable, skillful and caring providers, developing the most competent and compassionate staff, and serving as the most trusted community resource for urologic health. Learn more at metro-urology.com.