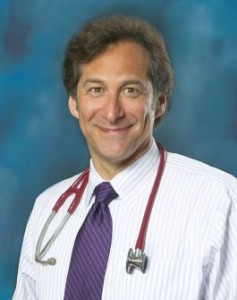 A Minnesota Oncology patient recently established a scholarship in honor of oncologist Dr. Stuart Bloom from our Minneapolis Clinic. The Joan L. Shapiro in Honor of Dr. Stuart H. Bloom Scholarship will be awarded annually to a student enrolled in the University of Minnesota Medical School who has expressed an interest in the study of oncology. The first award was presented to a student for the 2013-2014 academic year.
Shapiro established the scholarship to honor Dr. Bloom, "whose medical proficiency, boundless energy, perpetual good cheer, passion for his profession and compassion for his patients exemplifies to [her] what a doctor should be," according to the scholarship documents.
Dr. Bloom earned his medical degree from the University of Minnesota and completed a fellowship in oncology and hematology at the university. Dr. Bloom has been practicing the Minnesota Oncology since 2008. His areas of special interest are breast cancer and prostate cancer. He has been named a Top Doctor by Mpls.St.Paul Magazine every year since 2006 and a Top Doctor for Women by Minnesota Monthly annually since 2007.
"I am incredibly humbled by all this," Dr. Bloom said. "But it's really all about Joanie. She is using her cancer diagnosis as a means to make the world a better place. What an honor it is for me to be involved in her care."