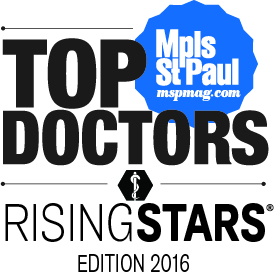 Five Minnesota Oncology doctors are physicians-to-watch in 2016, according to Mpls.St.Paul Magazine.
In the April 2016 issue, the magazine released the inaugural edition of Twin Cities' Top Doctors—Rising Stars, which recognizes five Minnesota Oncology physicians. To be selected for inclusion the list, the doctors must have been practicing for 10 years or less. Each physician named to the list was chosen by their peers in the field.
Minnesota Oncology also had five physicians named to the 2015 Rising Stars list.
Congratulations to the following 2016 Rising Stars from Minnesota Oncology!
Stephanie Krejcarek Childs, MD
Radiation Oncology

Maplewood Cancer Center
1580 Beam Avenue
Maplewood, MN 55109
(651) 779-7978

Matthew Graczyk, MD
Thoracic Oncology/Surgery

Minneapolis Clinic
910 E. 26th Street, Suite 200
Minneapolis, MN 55404
(612) 884-6300

Jocelin Huang, MD
Medical Oncology/Hematology

​Chaska Clinic
110105 Pioneer Trail W., Suite 302, Chaska
(952) 361-5800

Edina Clinic
6545 France Ave., Suite 210, Edina, MN 55435
(952) 928-2900

Nisha Jacobs, MD
Medical Oncology/Hematology

Coon Rapids Clinic
11850 Blackfoot Street NW, Suite 100
Coon Rapids, Minnesota 55433
(763) 712-2100

Kiran Lassi, MD
Medical Oncology/Hematology

Coon Rapids Clinic
11850 Blackfoot Street NW, Suite 100
Coon Rapids, Minnesota 55433
(763) 712-2100