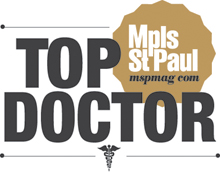 Minnesota Oncology is proud to announce that 19 of our physicians were named "Top Doctors" this year by Mpls. St. Paul Magazine.
The magazine released its 19th annual Top Doctors edition this month. The Top Doctors rankings are determined by a survey sent to 2,500 physicians and 2,500 registered nurses, who indicate which doctors they would go to in pre-selected specialties. Physicians who receive the top 15 percent of the vote in each specialty are featured in Mpls. St. Paul Magazine. Survey participants are randomly selected from the State of Minnesota's list of licensed physicians and nurses in the 10-county metro area.
Below is a complete list of Minnesota Oncology physicians recognized by Mpls.St.Paul Magazine in 2015.
Physician
Clinic Location(s)
2015 "Top Doctor" Category

Years Named Mpls. St. Paul
Magazine Top Doctor

Thomas Amatruda, MD
Fridley
Oncology
2015, 2014, 2013, 2012
Joseph Cardamone, MD
Coon Rapids
Oncology
2015, 2014, 2013
Cheryl Bailey, MD
Minneapolis
Gynecological Oncology
2015, 2014, 2013, 2012
Stuart Bloom, MD
Minneapolis
Oncology
2015, 2014, 2013
Matthew Boente, MD
Edina
Gynecological Oncology
2015, 2014, 2013, 2012
Barbara Bowers, MD
Edina
Oncology
2015, 2014, 2013
A. Catherine Casey, MD
Woodbury
Obstetrics/Gynecology
2015, 2014, 2013
Patrick J. Flynn, MD
Woodbury, Northfield
Hematology
2015, 2014, 2013
Thomas Flynn, MD
Minneapolis
Oncology
2015, 2014, 2013
Tim Larson, MD
Minneapolis
Oncology
2015, 2014, 2013
Joseph Leach, MD
Minneapolis
Hematology, Oncology
2015, 2014, 2013
Warren McGuire, MD
Maplewood
Radiation Oncology
2015, 2014, 2013, 2012
Steven Rousey, MD
Edina, Waconia
Oncology
2015, 2014, 2013, 2012
Burton Schwartz, MD, FACP
Buffalo, Faribualt
Hematology, Oncology
2015, 2014, 2013, 2012
John Schwerkoske, MD
Woodbury
Hematology, Oncology
2015, 2014, 2013, 2012
John Seng, MD
Minneapolis
Hematology, Oncology
2015, 2014, 2013, 2012
Annie Tan, MD
Coon Rapids
Obstetrics/Gynecology
2015, 2014
Eric Weinshel, MD
Burnsville, Edina
Oncology
2015, 2014, 2013, 2012
Paul Zander, MD
Minneapolis
Hematology
2015, 2014, 2013, 2012