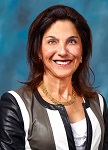 Minnesota Oncology is pleased to announce the association of Barbara Bowers, MD, with the practice of medical oncology at the Edina Clinic beginning today. Dr. Bowers comes to Minnesota Oncology from Fairview Southdale Hospital where she practiced for many years. Dr. Bowers received her medical degree from the University of Minnesota Medical School, Duluth, Minnesota. She completed her residency at Abbott Northwestern Hospital, Minneapolis and a fellowship in medical oncology at the University of Minnesota Masonic Hospital in Minneapolis.
"As a physician, my role is to partner with patients. To do that, we need to educate patients, giving them information they need to make informed decisions regarding their care, and to help us communicate on the same wave length. I try to make sure they know that they are the most important person on our care team," says Dr. Bowers.
As a well-known medical oncologist specializing in the diagnosis and treatment of breast cancer and those at high risk for developing breast cancer, Dr. Bowers is frequently sought as a public lecturer and has presented at professional seminars such as the Breast Cancer Awareness Association Living with Breast Cancer conference. She was honored by her peers as a Top Doctor for Women in Minnesota Monthly magazine for 2013 and 2014, and she was recognized as a 2013 Top Doctor in the Minneapolis/St Paul Magazine.
Appointments with Dr. Bowers at the Edina Clinic can be made by calling (952) 928-2900.