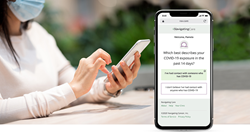 To keep our patients and staff safe during the COVID-19 public health emergency, we will be sending you a short questionnaire prior to your appointment. It is important for you to complete this survey prior to coming in for our appointment.
Here's what to expect:
Watch for your link: You will receive a link to the questionnaire two days prior to your appointment provided that we have a valid mobile phone number or email address.
Verify your identity: After receiving the link to the questionnaire, you will be asked to verify your identity by providing your first and last name, date of birth, and zip code.
Complete the questionnaire: You will be asked a series of questions about your exposure and COVID-19 related symptoms.
Follow your recommendations: If your responses indicate COVID-19 risk, you will be notified to wait for a call from your healthcare team before coming in for your appointment.
Thank you in advance for helping keep our patients and staff safe!