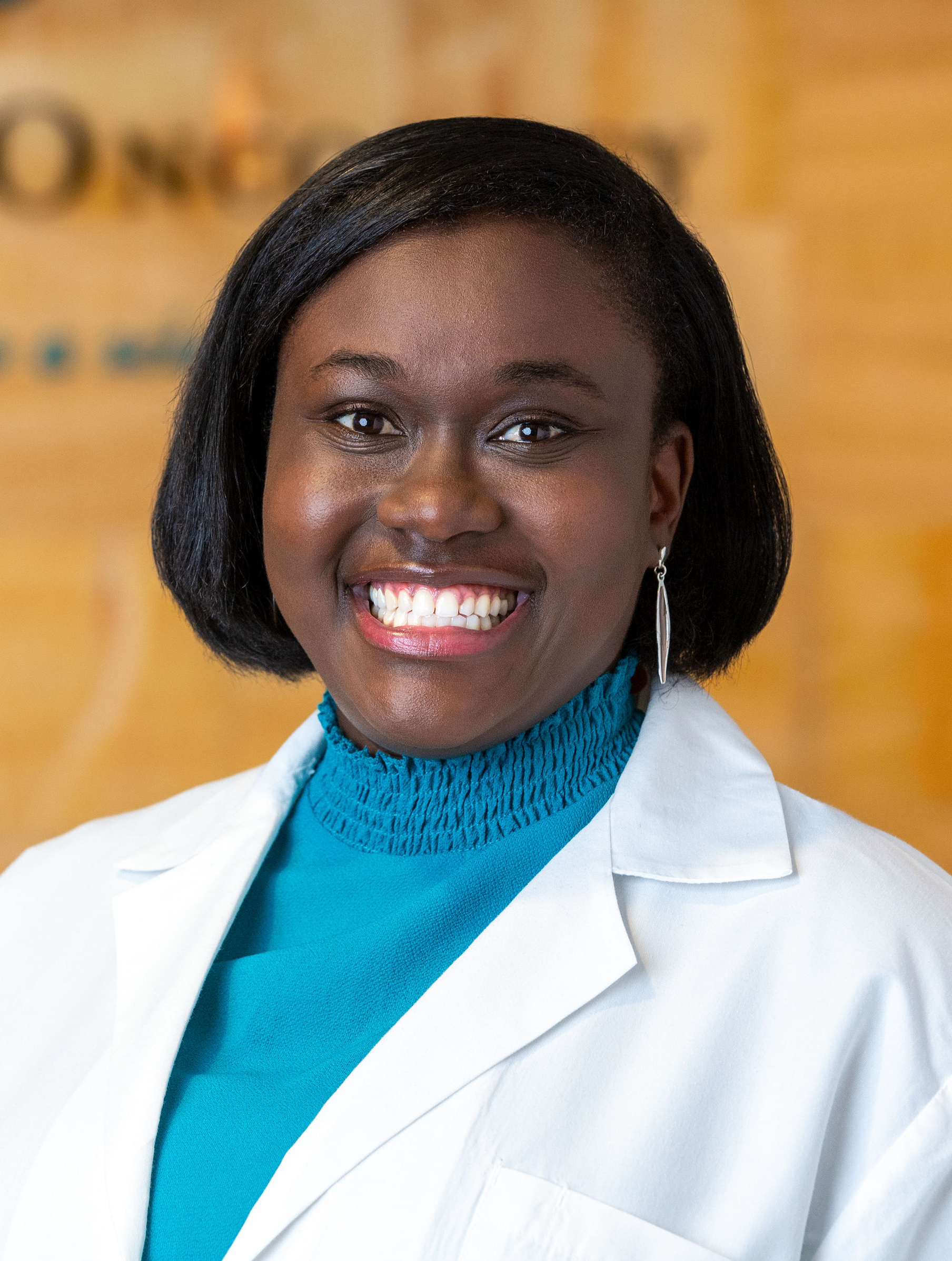 Shariska Harrington, MD, MSCR
Gynecologic Oncology
Education:
College
Bachelor of Arts in Biological Sciences: University of Chicago, Chicago IL
Medical School
David Geffen School of Medicine at UCLA/CDU, Los Angeles, CA
Residency
Obstetrics and Gynecology Residency: Henry Ford Hospital/Wayne State University, Detroit, MI
Fellowship
Gynecologic Oncology Fellowship: University of Kansas Medical Center, Kansas City, KS
Graduate School
Master of Science in Clinical Research: University of Kansas Medical Center, Kansas City, KS
Areas of Special Interest
Gynecologic Cancers
Health Equity
Robotic surgery
Clinical trials
Biomarker directed therapies
Evidence-based care
---
Philosophy of Care
All patients deserve equitable, evidence-based and compassionate healthcare. I strive to partner with patients to ensure that they understand every aspect of their care and are empowered to make the best decisions to serve their individual needs.
---
About
Academic Honors & Professional Achievements
Foundation for Women's Cancer Young Investigator Award in Honor of Laurel Rice, MD
Society for Reproductive Investigation's Underrepresented Minority Program
Residents as Teachers Scholar Program
Transdisciplinary Research in Energetics and Cancer (TREC) Training Fellowship
TL1 Postdoctoral Clinical and Translational Research Training Program Award
Ovarian Cancer Research Alliance- Ann & Sol Schreiber Mentored Investigator Award
3rd place Poster Competition; University of Kansas Cancer Center Symposium
Hippocrates Award for Resident Who Best Practices Art of Medicine
CREOG Award for Outstanding Performance on CREOG In-Service Examination
American Association for Cancer Research Scholar in Training Award
Research/Publications
Gupta VG, Hirst J, Petersen S, et al. Entinostat, a selective HDAC1/2 inhibitor, potentiates the effects of olaparib in homologous recombination proficient ovarian cancer. Gynecol Oncol. 2021 Apr 15:S0090-8258(21)00325-5. doi: 10.1016/j.ygyno.2021.04.015. Epub ahead of print. PMID: 33867143.
Petersen S, Shahiri P, Jewell A, Spoozak L, Chapman J, Fitzgerald-Wolff S, Lai SM, Khabele D. Disparities in ovarian cancer survival at the only NCI-designated cancer center in Kansas. Am J Surg. 2020 Dec 7;. doi: 10.1016/j.amjsurg.2020.12.009. PubMed PMID: 33309256
Ball, J, Thompson, J, Wulff-Burchfield, E, Ellerbeck, E, Kimminau, K, Brooks, J, Petersen S, Rotich, D, Kinney, A, Ellis, S. "Precision community: a mixed methods study to identify determinants of adoption and implementation of targeted cancer therapy in community oncology." Implement Sci Commun August 2020. 1:72 https://doi.org/10.1186/s43058-020-00064-y
Doe, S, Petersen S, Buekers, T, Swain, M. Does a Multidisciplinary Approach to Invasive Breast Cancer Care Improve Time to Treatment and Patient Compliance? J Natl Med Assoc. 2020 Apr 11. doi: 10.1016/j.jnma.2020.03.010. PubMed PMID: 32291070.
Affiliations
Society of Gynecologic Oncology
American Association of Gynecologic Laparoscopists
American Congress of Obstetricians and Gynecologist
Surgery Locations
---
Personal
I was born and raised in Saint Croix, US Virgin Islands and spent the last several years traveling across the country to complete my medical training. My husband is a native of Detroit, MI, and we are excited to call Saint Paul home. We love traveling, experiencing live music, attending sporting events and trying out new restaurants.
---
"All patients deserve equitable, evidence-based and compassionate healthcare."